The Bureau of Labor, the predecessor of the Bureau of Labor Statistics (BLS), published the results of nine investigations on the conditions of African American labor in the United States between 1897 and 1903. These studies included a diverse range of viewpoints from social scientists and provided insight into the post-Reconstruction Era status of African Americans in the labor force. Carroll D. Wright, the first commissioner of the Bureau of Labor, coordinated with George G. Bradford and W.E.B. Du Bois of Atlanta University to tabulate and publish studies on the African American labor force.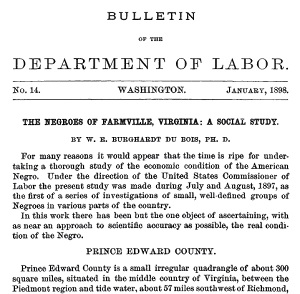 These reports, authored by notable scholars of the day, examine African American labor conditions in various regions and industries. W.E.B. Du Bois, a noted sociologist, historian, and civil rights activist, contributed three essays to the series. His essay on African American laborers of Farmville, Virginia, was one of the first of its kind and set the tone for the following essays in the series. Du Bois followed that essay with an examination of African American landownership in Georgia that provided an important look at the accumulation of land a generation after slavery.
Richard R. Wright, Jr., the first African American to earn a Ph.D. from the University of Pennsylvania and a professor at Wilberforce University in Ohio, examined the community of Xenia, Ohio.
William Taylor Thom, a Virginia professor of history and English, contributed three essays to the series: one on Sandy Spring, Maryland; one on the African American oyster farmers of coastal Virginia; and one on the Grand Fountain of the United Order of True Reformers, an African American fraternal organization that chartered the first African American bank in the United States.
Although this series had a limited run, the BLS continues to report on African American labor, economic conditions, and the status of African Americans in the workforce.