The Federal Reserve Bank of St. Louis is well-known for its economic data and information resources—like FRASER and FRED. In 2020, the Federal Reserve System website FederalReserveHistory.org joined the St. Louis Fed's suite of free online information resources, providing an encyclopedia-style reference for students, teachers, and the public interested in the history of the Fed.
This fall, economic historian Jonathan Rose joined the team as the new Federal Reserve Historian, helping to set priorities for FRASER, Federal Reserve History, and other historical projects. His appointment provided the perfect opportunity to (re-)introduce the Fed History site to FRASER users.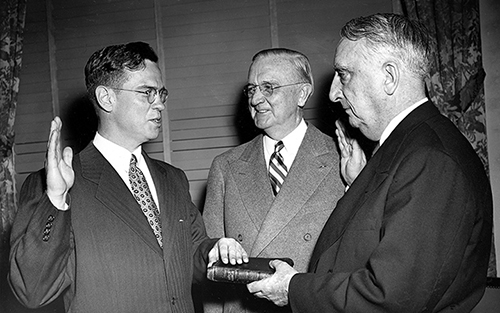 Federal Reserve History was created as part of the commemoration of the Federal Reserve centennial in 2013-2014. The centennial project was an effort to make the vast amount of historical material on the Fed easier to find, understand, and use, providing greater transparency into change and continuity in our nation's central bank over the last 100 years.
The St. Louis Fed research information team relaunched the Fed History site in late 2021 with a refreshed design and new education and information pages intended to help visitors navigate and use the site. Users can explore the Fed's history by time period, learn more about the Fed's structure and functions, and browse biographies of all current and past Federal Reserve leaders: Fed Chairs, members of the Board of Governors, and Reserve Bank presidents by era and by Fed affiliation.

Since the relaunch, the Fed History team has added new essays, added sources and related content to existing essays, and has begun to revise the more than 200 bios of Fed leaders in order to add citations and primary and secondary source links. Many of these link back to full text resources in FRASER. Researching Fed history topics has sparked the collection of new FRASER materials, including a selection of Senate confirmation hearings previously unavailable on the site, and a new curated theme focused on the 1977 Community Reinvestment Act.
The Fed History and FRASER teams continue to work together, collaborating with information professionals and archivists across the Federal Reserve System to create, improve, and curate blog posts, historical timelines, educational materials, and more. Want a daily dose of financial history? Follow @FedFRASER and @FedHistory on Twitter. Have a research question, a suggestion, or need a fact check? Contact our joint reference desk at Fed History or FRASER.
---
© 2022, Federal Reserve Bank of St. Louis. The views expressed are those of the author(s) and do not necessarily reflect official positions of the Federal Reserve Bank of St. Louis or the Federal Reserve System.