The FRASER team was busy last year, adding thousands of new items to our digital library of economic and financial history. Here are some of FRASER's "greatest hits" of 2018, with some bonus links to relevant Inside FRASER posts you may have missed.
Federal Reserve Materials
In 2018, we further expanded our collections of Federal Reserve System research publications and statements and speeches by Fed leaders.
In January, as we do every year, we added the most recently released Federal Open Market Committee (FOMC) meeting materials and statements and speeches by members of the Board of Governors. Additional memos distributed to FOMC members in 2005, 2011, and 2012 have also been added to the meeting materials. We tracked down and digitized thousands of issues to add to our ever-growing collection of Federal Reserve statistical releases. (You can learn more about the years of work done by the FRASER team on this unique collection in another Inside FRASER post.)
In partnership with the Federal Reserve Bank of Philadelphia, we digitized and added a century of Philadelphia Fed annual reports to our collection. From our own archives we added additional circulars (letters from a regional Bank to its member banks) from the Federal Reserve Bank of St. Louis; more speeches by Darryl Francis, president of the St. Louis Fed from 1966-1976; and the Eighth District publication Pieces of Eight, 1962-1992, a precursor to the St. Louis Fed's Regional Economist.
Most recently, we made the statements and speeches of Michael Moskow, President and Chief Executive Officer of the Federal Reserve Bank of Chicago from 1994-2007, available on FRASER. Additional working papers and World War I era annual reports from the Federal Reserve Bank of Chicago were also added in 2018, along with Risk Perspectives, a quarterly newsletter on risk monitoring from the Seventh District's banking supervision group, which is now available for 2011-2015. Another Chicago Fed publication, Economic Perspectives, a business and financial review, is now available for 1977-2016. Finally, we added new papers to the working paper series from the Federal Reserve Bank of Richmond, which now stretches from 1973-2018.
As a bonus, to help give context to our large Fed collections, in 2018 FRASER librarians also built new timelines of the presidents of each Federal Reserve Bank, from the Banks' opening day in 1914 to today.
Archives and Historical Publications
This year, FRASER not only added exciting new archival materials, but also got the chance to highlight our archival process and relationships on Inside FRASER. We gave a brief overview of our collection and description process, highlighted our use of the "more product, less process" description philosophy, and gave a much-deserved shout-out to our digitization partnerships, without which we would be unable to do so much of what we do.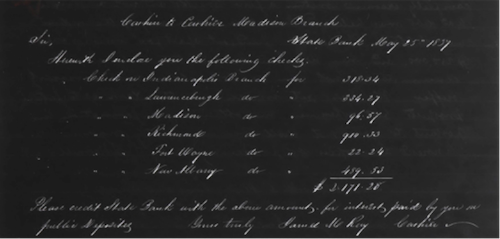 The FDIC records from the National Archives include photostat copies of 19th century archival bank records.
Two significant new collections were added to FRASER in 2018 with the help of our partners at the National Archives and Records Administration (NARA): First, the complete remaining Records of the Division of Negro Economics, 1919-1921, from the records of the Department of Labor, were added in February. (Read more about the Division, which was one of the earliest federal agencies run by African Americans and which focused on African American labor issues, in this Inside FRASER post for Black History Month.) Second, we added a large collection of historical files (compiled in 1934-1965) from the records of the Federal Deposit Insurance Corporation (FDIC). This series contains research materials about banks in various states in the 19th and early 20th centuries, as well as county-level economic data, used in economist Clark Warburton's studies of bank insurance in the 19th and 20th centuries.
In addition to the FDIC materials from NARA, we also added statements and speeches of more than 75 FDIC officials, spanning 1935-1990, with the help of our partners at the FDIC's library. FRASER librarians brought these and other FDIC materials together in a new curated theme and explained the historical relationship between the FDIC and the Fed in this Inside FRASER post.
Closer to home, the St. Louis Public Library provided materials for us to digitize and add the entire run of the Merchants' Magazine and Commercial Review, 1839-1870, a precursor to the weekly business newspaper the Commercial and Financial Chronicle. The magazine, one of the oldest business periodicals, was published with the aim of discussing "every subject that can be interesting or useful to the merchant." (Learn more about the magazine's history and contents in this Inside FRASER post.) Other hometown partners at the Missouri History Museum aided us in digitizing and adding additional items covering Fed Chairman William McChesney Martin Jr.'s years at the Department of the Treasury, 1949-1951.
Finally, in 2018 we began to digitize and add records of the Women's Bureau (part of the Department of Labor) from NARA. As part of the foundation for expanding our already significant holdings of Women's Bureau materials, FRASER also added two additional Bureau publications: The Woman Worker (1938-1942), a bimonthly magazine, and Facts on Women Workers (1946-1961), a monthly newsletter.
FRASER Updates
With the help of our most important internal partners—our development team—FRASER also made a number of changes to the site. These updates include tweaking the ability to find and share content, giving us the ability to add CSV and Excel files (see our first example in the Treasury TARP reports), and improving our site search functionality. FRASER also rebuilt its education page from the ground up, turning the old single page of links into a rich "Teaching and Learning with FRASER" collection.
As FRASER finishes its first year with our new digital library manager, we look forward to further building our virtual community and enhancing our relationship with our users. Do you have a great idea for a new collection or site enhancement, or are you a potential partner with materials you'd like to see on FRASER? Email us! Interested in even more FRASER updates? Subscribe to our monthly newsletter and get daily updates on Twitter at FedFRASER. And last but certainly not least, if you're a librarian interested in joining the FRASER team, consider applying for the Senior Librarian position through the St. Louis Fed's job site.
© 2019, Federal Reserve Bank of St. Louis. The views expressed are those of the author(s) and do not necessarily reflect official positions of the Federal Reserve Bank of St. Louis or the Federal Reserve System.